FLY JET LUXURY WINE.BRANDY.COGNAC.CHAMPAGNE.COUNTER WINE CELLAR.WINE COOLER.FLY JET INTERNATIONAL.SHIP 180 COUNTRIES. Fine wine tastes better after its been left to breathe. This wine aerator does just that, bringing out the flavours and aromas and making for a much smoother, richer taste. This wine oxygenator allows you to aerate and oxygenate your wine immediately, saving precious sipping time with its no fuss process. Working immediately, from bottle to aerator to glass, this handy device is perfect for dinner parties, whilst also making a wonderful gift for wine lovers. SHOP BY WINE.Wine comes in all manner of styles, and we have the pick of the bunch. Whether you prefer white, red or rose, youll find them here. And why not treat yourself to a rich, warming port or sherry for the colder months? FINE WINE.If you feel like opening a bottle of something special, our fine wines are the perfect choice. We have bottles from the best producers from around the world. One Acclaimed Wine Steeply Discounted Daily Save Up to 70 % . Cabernet Sauvignon. Pinot Noir. Malbec. Sangiovese. Red Blends. Chardonnay. Sauvignon Blanc. Pinot Grigio / Gris. Albarino. 90 plus WINE CLUB SAKE. ACCESSORIES. ENGRAVING. CORPORATE GIFTS.
SaloonBox.Curated cocktails,delivered to your door.Make bar quality drinks at home.Sign up today for a monthly subscription of craft cocktails. Each monthly kit is designed for two people.Youll each get to try two cocktail recipes and your box will include the ingredients and instructions you need. Alcohol may be shipped separately.Our recipes are created by bartenders or by our team and are always original. And we will tell you whats shipping in your next kit ahead of time, so you can skip or make substitutions if it doesnt suit you.Four cocktails total per kit when you order any of our monthly subscriptions. Cloudy Bay Chardonnay 2016. Cloudy Bay Te Koko 2014. Cloudy Bay Pinot Noir 2015. Cheval des Andes 2014. Cape Mentelle Sauvignon Blanc Semillon 2017. Chateau dYquem 1er Grand Cru Classe Sauternes 2015 375ml. Ao Yun 2014 Gift Box. Bodega Numanthia Termes Toro 2015. Bodega Numanthia Termes Toro 2016. Bryant Family Vineyard Napa Valley Cabernet Sauvignon 2012. Bryant Family Vineyard Napa Valley Cabernet Sauvignon 2015. Frank Family Winston Hill Cabernet Sauvignon 2006-2007-2008 Library Vertical 3-Pack. Cardinale Cabernet Sauvignon 2015. Frank Family Winston Hill Cabernet Sauvignon 2013. GKG Napa Valley Cabernet Sauvignon 2015. Eisele Vineyard Cabernet Sauvignon 2015. Beringer Private Reserve Napa Valley Cabernet Sauvignon 2014. Stags Leap Cask 23 Cabernet Sauvignon 2016. Diamond Creek Volcanic Hill Cabernet Sauvignon 2016.
Bukkuram Padre Della Vigna 2012 / De Bartoli WINE BOTTLE CLOCK. Wavertree Wine Cabinet in Antique Grey and Natural Wood Tone. Wavertree Hanging Wine Rack in Black Horizontal Wavertree Wine Rack in Black and Galvanized Steel. Wine Cabinet in Crossroads Rosa and Woodland Dark Stain. Wine Breather Carafe design by Norm Architects for Menu. Wine Breather Deluxe in Gold design by Norm Architects for Menu. Klad Wine Rack. WINE LOVERS STOOL. Cube Wine Holder. Allesio Wine Rack. Best Cellar Wine Rack. Galloway Wine Rack. Large Brighten Wine Holder. Medium Brighton Wine Holder. Five Green Bottles Wine Rack in Aged Black.
AWARD WINNING CRAFT SPIRITS.DELIVERY TO YOUR DOOR.MAKE EXCEPTIONAL COCKTAILS.ELEVATE YOUR FAVORITE COCKTAIL RECIPES. CRAFT MOONSHINE. Promontory Napa Valley Red 2013. Wine Club - Red Wine. Wine Club - White Wine 10.00% Off Auto renew.
Original Xiaomi Circle Joy Smart Wine Stopper Stainless Steel Vacuum Memory Wine Stopper Electric Stopper
Classic Christmas Table Wine Case / 6 Bottles
Classic France Wine Case / 6 Bottles
Classic Wine Case / 6 Bottles
Red Delight Wine Case / 12 Bottles
HandH Verdelho Solera 1898
Pereira dOliveira 1929 Tinta Negra Sweet Madeira
HandH Old and Rare Sercial 1964
Gonzalez Byass Anada 1967 Amoroso
Taylors 1970 Single Harvest Port
Gonzalez Byass Anada 1975 Palo Cortado
Pereira dOliveira 1977 Sercial Madeira
Vallein-Tercinier LOublie 1978 Pineau des Charentes Blanc
Warres 1980 Vintage Port
Grahams Quinta Dos Malvedos 1982 / Library Release
Taylors 1985 Vintage Port / Magnum
Gonzalez Byass Anada 1987 / Palo Cortado
Fonseca 1994 Vintage Port
Taylors 1994 Vintage Port
Chateau Leoville Las Cases 1995
Chateau La Conseillante 2001
Grahams 2003 Vintage Port
Quinta do Noval Nacional 2004 Port
Chateau Pape Clement 2005
Chateau Tertre Roteboeuf 2006
Gonzalez Byass Fino Finite Collection 2010 and 2011 / 2x50cl Set
Biondi-Santi Brunello di Montalcino Riserva 2012
Dulce Nombre 1986 Palomino / Gonzalez Byass
Taylors 40 Year Old Tawny Port
Grahams 40 Year Old Tawny Port
Barbeito Madeira Mae Manuela 40 Year Old Malvasia
Barbeito Malvasia 40 Year Old Madeira
Pedro Ximanez Solera 1918 / Ximenez Spinola
Stainless Steel Red Wine Fresh-Keeping Cork.
The VIP Treatment One Cabernet Sauvignon.Sunny Merlot Gift.Shiraz Charm.Tim Smith Wines Shiraz 2010.
Wine for Two design by Teroforma.
1pt Cocktail Pack MULLED WINE by Teroforma.
Whiskey for Two design by Teroforma. Whisky Double Old Fashioned Glass in Various Colors design by Moser. Angular Study Hexagonal Wine Rack.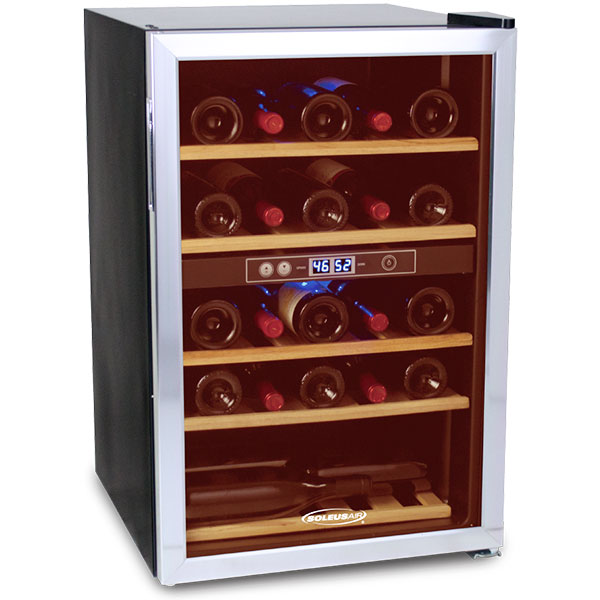 Soleus Air Wine Cooler Dual Zone Cooling 37 Bottle Capacity WKD5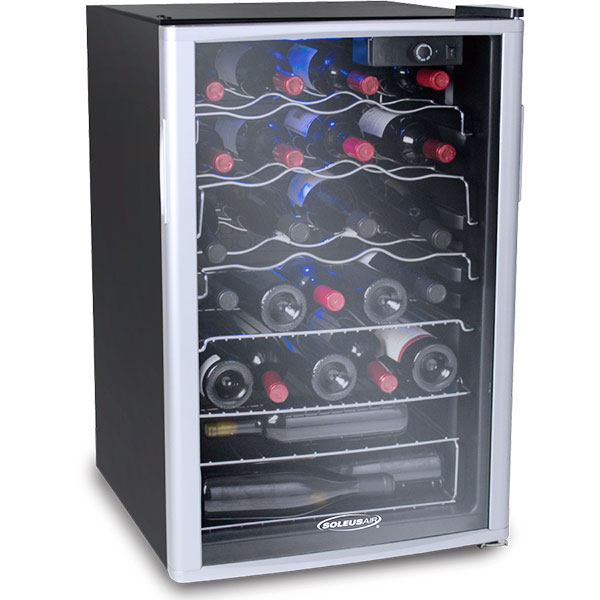 Soleus Air Wine Cooler Single Zone Cooling 38 Bottle Capacity WK6